In the run up to Tuesday's election we are taking a final look at election 2018, previously we took a look at the Gubernatorial races, with Democrats favored to gain 9 seats. Now we'll look at the US Senate, which is likely to either finish with a slim GOP majority, or in a tie. The final race ratings are below.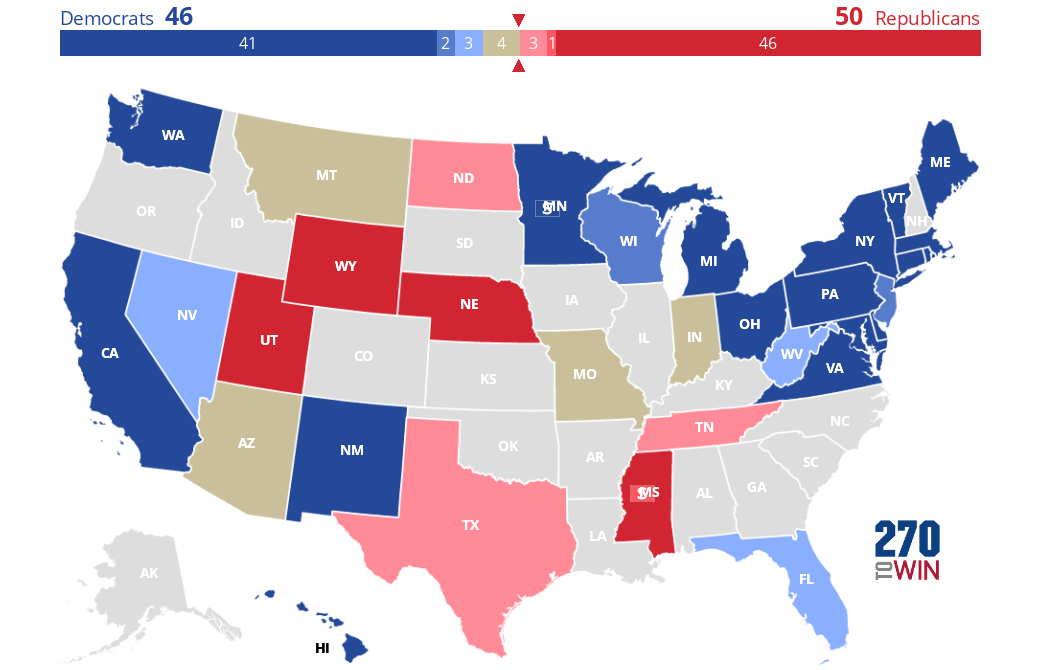 Click the map to create your own at
270toWin.com
Safe GOP (4 seats, no flips)
Utah
Wyoming
Nebraska
Mississippi (Wicker)
Nothing to say here other than Senator Mitt Romney will be a thing.
Likely GOP (1 seat, no flip)
Mississippi (Hyde-Smith)
All eyes will be on the Cindy Hyde-Smith vs Chris McDaniel outcome here, if the Tea Partier McDaniel upsets Hyde-Smith the ensuing runoff will see GA-06/Alabama Senate level interest from Democrats financially and resource wise (even in a red state like MS). That said if Hyde-Smith does what is expected and advances, she should win the runoff by a credible margin against Democrat Mike Espy.
Lean GOP (3 seats, 1 flip)
North Dakota
Tennessee (<-from Likely GOP)
Texas (<-from Likely GOP)
One of these three seats must go towards the Dems for the party to take the Senate in an upset, they have roughly a 25% chance in each. Phil Bredesen has rebounded a bit against Marsha Blackburn but Blackburn remains likely to ride decent approvals for Trump in the Volunteer state to a victory, edging Bredesen's personal popularity and moderate profile.
Beto O'Rourke is likely to finish with the best result in the modern era for Texas Democrats, but he's not likely to finish with a win. Ted Cruz is a lackluster Republican Senator but moving the needle statewide in Texas remains a challenge and O'Rourke's margins in key districts don't look to be enough to take the state, even with the increase in turnout.
Heidi Heitkamp could pull a Lazarus act, but Kevin Cramer has won statewide before as well and I'm not sure where the Heitkamp vote surge will come from to make up for a state that is in the Republican column by a significant margin overall. North Dakota is the one seat Republicans remain confident of flipping after entering the cycle with a higher ceiling.
Toss-Up (4 seats)
Tilt D
Montana
Arizona (->from Lean Dem)
Indiana (->from Lean Dem)
Tilt R
Missouri (<-from Lean GOP)
Jon Tester and Joe Donnelly are favored for re-election, but they could win with pluralities, as Libertarian votes will be cast in these races, votes that will chip into the Republican voteshare. Tester and Donnelly have run strong re-election campaigns, with Donnelly in particular embracing a conservative profile, their states are not easy for Democrats though so they haven't shut the door yet. Matt Rosendale and Mike Braun are dependent on nationalizing these races to pull upsets, which is possible but not likely presently.
While turnout in Arizona favors Republicans right now, Martha McSally's spate of attacks against Kyrsten Sinema have fallen flat and Sinema's strong margin with non-partisan voters should give her just enough votes to get over the line, setting McSally up to fill the other Arizona seat by appointment.
I have Missouri as a GOP pickup right now, though I don't expect Josh Hawley to win by more than 2-3%. Hawley has taken advantage of the state's partisan lean and Claire McCaskill will need a surge in Democratic enthusiasm to pull off an upset.
Safe Dem (18 seats, no flips)
Hawaii
Washington
California
New Mexico
Minnesota (Smith)
Minnesota (Klobuchar)
Michigan
Ohio
Pennsylvania
Maryland
Delaware
Virginia
New York
Connecticut
Rhode Island
Massachusetts
Vermont
Maine
Republicans complete lack of competitiveness in the Midwest has cost them dearly with Michigan, Ohio, Pennsylvania, and both Minnesota seats not even on the board.
Likely Dem (2 seats, no flips)
Wisconsin
New Jersey
Bob Menendez is an awful person but he's going to beat Republican Bob Hugin because of anti-Trump sentiment in New Jersey. Menendez is unpopular but Hugin isn't the one to beat him in the end.
Tammy Baldwin's margin will probably shrink a bit compared to polls but she still looks comfortable against Republican Leah Vukmir, a disappointing candidate for the GOP, especially since Scott Walker is still viable for Governor.
Lean Dem (3 seats, 1 flips)
Nevada* 
Florida
West Virginia
Democrats have probably sealed the deal in these three states. The early vote numbers in Nevada are more than enough to put Jacky Rosen past Dean Heller, despite Heller's dominance in rural Nevada. Rosen isn't a great candidate but Heller has legislated to the right of his state.
In Florida a relatively lackluster campaign by Bill Nelson is going to be saved by Andrew Gillum driving turnout and anti-Trump sentiment, with Rick Scott's fortune likely going to waste in the end.
Joe Manchin could romp, or could edge past Patrick Morrisey (R) but either way the most conservative Senator in the Democratic caucus is likely to return to the Senate as a key swing vote in the years to come. Morrisey has flopped with his focus on supporting Trump above all else.
Summing it all up, Republicans are currently projected to hold 51 senate seats, with Democrats holding 49. an unchanged result compared to the current Senate, this is a relatively good result for Democrats given the map they were defending this cycle.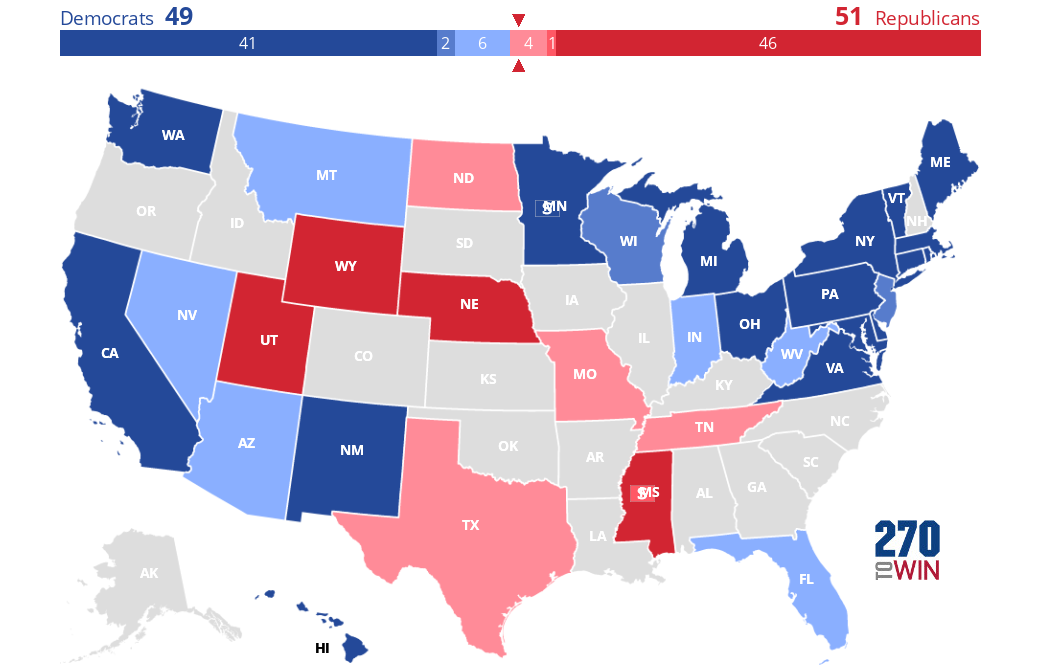 Click the map to create your own at
270toWin.com
Main Photo