A final look at the 2018 Gubernatorial elections is first of three final previews and predictions for the 2018 midterm elections. Prior to Tuesday, election day, we'll also have a final look at the race for Control of the US Senate and US House. With the outcome relatively clear in most races, Democrats have seized the initiative, and are set to flip at least 8 states with a two figure victory looking increasingly likely. The final ratings map is below.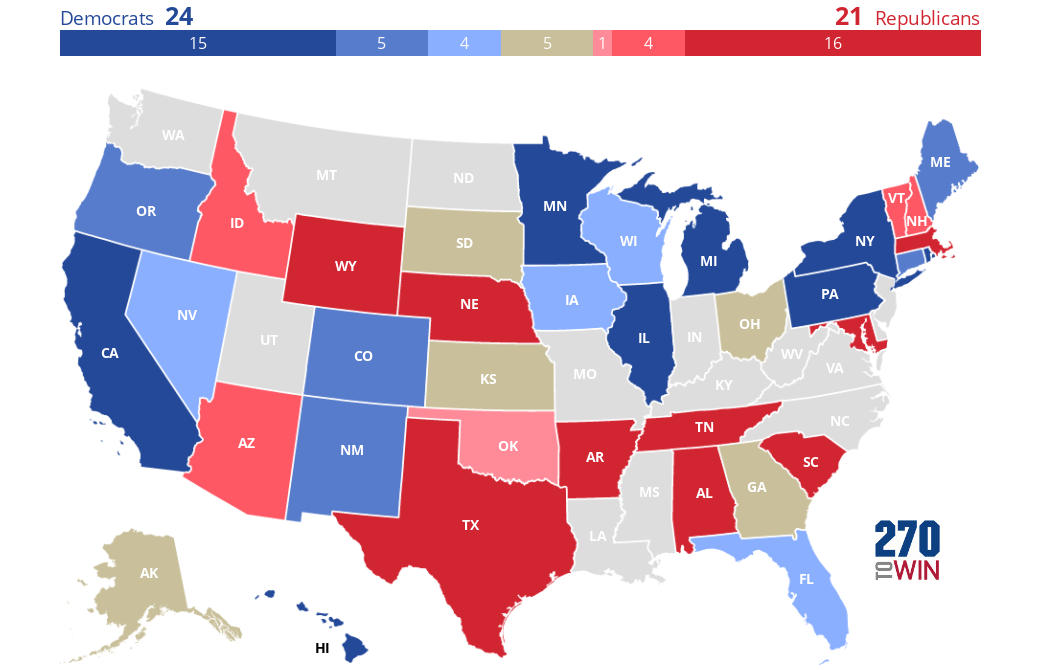 Click the map to create your own at
270toWin.com
Safe GOP Seats (9 seats, no flips)
Wyoming
Nebraska
Texas
Arkansas
Tennessee
Alabama
South Carolina (->from Lean GOP)
Maryland
Massachusetts
The red states of the west and south look to be off the board for Dems this year, with Texas, Alabama, and South Carolina representing a bit of a missed opportunity. South Carolina Governor Henry McMaster has gained on James Smith most notably. Meanwhile blue state Republicans Larry Hogan (MD), and Charlie Baker (MA) remain safe, even though Ben Jealous progressive supporters in Maryland are still holding out some hope of a narrow victory due to the dynamics of the state. Hogan losing would be a genuine shock.
Likely GOP Seats (4 seats, no flips)
Arizona (->from lean GOP)
Idaho (<-from Safe GOP)
Vermont (<-from Safe GOP)
Arizona Governor Doug Ducey is performing above the party line in a state that is increasingly a toss-up. Ducey has improved his standing even while Republicans have lost ground in other Arizona races, accordingly he has very good odds of re-election.
If Democrats win Idaho or Vermont it would be a very good night. Democrat Paulette Jordan has stabilized a bit in Idaho but she remains a heavy underdog against Brad Little (R), New England Republican Phil Scott (VT), could very well win by single digit margins but remains heavily favored.
Lean GOP Seats (1 seat, no flip)
Oklahoma
New Hampshire (<-from Likely GOP)
Unpopular incumbent Governor Mary Fallin remains a drag on GOP chances in Oklahoma, but Republican outsider Kevin Stitt remains favored against Drew Edmondson (D). Edmondson has been a good nominee for Democrats but he probably doesn't have a path to the majority at this point unless Democrats have a huge night.
New Hampshire has come on the board late as underdog Democrat Molly Kelly has steadily risen in the polls against a flatlined Chris Sununu. Two late polls have shown a tie, and while Sununu probably remains popular enough to get over the line, Kelly has real upset potential given the current partisan lean of NH.
Safe Dem Seats (8 seats, 2 flips)
Hawaii
California
Minnesota
Illinois
Michigan
Pennsylvania
New York
Rhode Island (<-from Likely Dem)
Republicans Bruce Rauner (IL), and Bill Schuette (MI), Jeff Johnson (MN), and Scott Wagner (PA) have all basically given up at this point against their Democratic opposition. Accordingly Democrats are set to run the table in the Midwest, with big victories in those states. Democrat Gretchen Whitmer (MI) is trying to help carry other Democrats in the state over the finish line.
Democratic incumbent Gina Raimondo (RI) has improved her standing as well and will be re-elected, partially due to Republicans splitting their vote between a moderate and a Trump style candidate.
Likely Dem Seats (5 seats, 2 flips)
Oregon
Colorado (<-from Lean Dem)
New Mexico
Connecticut (->from Safe Dem)
Maine (<-from Lean Dem)
Jared Polis (D) will keep the Governorship in Colorado under Democratic control as Republican Walker Stapleton has seen his hopes fade, Ned Lamont (CT) is still favored but he's slipped a bit against Republican Bob Stefanowski who scored an endorsement from former Senator Joe Lieberman. Democratic women Kate Brown (OR), Janet Mills (ME), and Michelle Lujan Grisham (NM) are also set to win, though the margins should be somewhat close. Mills has surged in the final weeks of the campaign.
Lean Dem Seats (4 seats, 4 flips)
Nevada
Iowa
Wisconsin
Florida
https://www.youtube.com/watch?v=Z08PQLDFIYc
No (relevant) movement in these 4 GOP held seats that remain top tier pickup opportunities for Democrats. Despite a mixed bag of polling results I still back Steve Sisolak (D) over Adam Laxalt (R) in Nevada due to the current early vote numbers, Democrats will continue their run of Midwest results with Fred Hubbell (IA), and Tony Evers (WI) favored against Republican Incumbents Kim Reynolds and Scott Walker. Reynolds and Walker still have a puncher's chance, especially Walker, but they face an uphill climb on election day. Democrats running low key candidates have helped in these states.
Donald Trump has made a late play to try to save Ron DeSantis in Florida, but Andrew Gillum, dogged by a corruption scandal, remains the favorite as DeSantis's improved campaign operation doesn't change the fact he's one of the worst statewide nominees in Florida GOP history.
Toss Up Seats
GOP Edge
Alaska (<-from Likely GOP)
South Dakota (<-from Lean GOP)
Georgia (<-from Lean GOP)
Dem Edge
Kansas
Ohio
There are five toss-ups left on the board, the surprise withdrawal of incumbent Governor Bill Walker from the Alaska race has thrown it into chaos with Democrat Mark Begich likely to pick up most of Walker's support, making it a tight race against Republican Mike Dunleavy. Dunleavy remains a slight favorite but Alaska is hard to call right now and Begich is still a well liked, and well known candidate.
In South Dakota Democrat Billie Sutton, a blue dog, caught Republican Kristi Noem by surprise. Noem is in a dogfight now, she remains a slight favorite due to the lean of the state, but Sutton winning would not be that much of a shock at this point.
In Georgia Democrat Stacey Abrams can't seem to crack 50%, but she's getting close enough to make a runoff seem likely given the current voter turnout data. Brian Kemp has been a poor Republican nominee who has dragged the party down due to voters doubts about his job performance as Secretary of State, and his embrace of Trumpism. Kemp would be favored in a runoff as much of the Abrams coalition of infrequent voters will fall off if they have to go the polls again. Kemp really hasn't laid a glove on Abrams with his base focused campaign.
At this point the underwhelming campaign of Republican Kris Kobach in Kansas has made Democrat Laura Kelly a slight favorite. What Kelly lacks in charisma she makes up for in focus and having a broader appeal than the Trumpist Kobach. Independent candidate Greg Orman remains in the race, and will get less than 10% most likely, and despite conventional wisdom he's probably taking more votes from Kobach than Kelly.
Democrats should finalize their big run in the Midwest by picking up Ohio Governor as well, it's a toss-up on paper but Democrat Richard Cordray should be a slight favorite against Republican Mike DeWine, despite Ohio Dems organization problems.
The final projection map is below with Democrats taking control of 26 states compared to Republicans 24, a net gain of 9 for Democrats.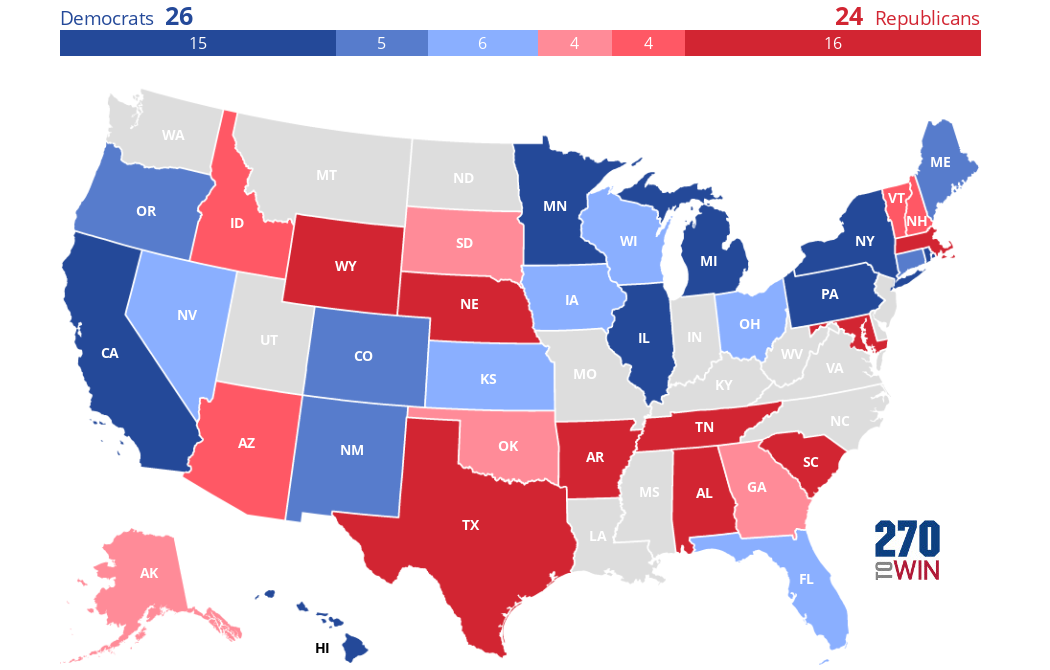 Click the map to create your own at
270toWin.com
Main Photo: