While Democrats have improved their position in key House and Gubernatorial races in recent weeks, their odds of taking the Senate have shrunk, as voters in red states have shown signs of coming home to their GOP loyalties, making it difficult for even strong Democratic candidates to win. Here is the current look at the US Senate, you can check out my current review of Gubernatorial races by clicking here.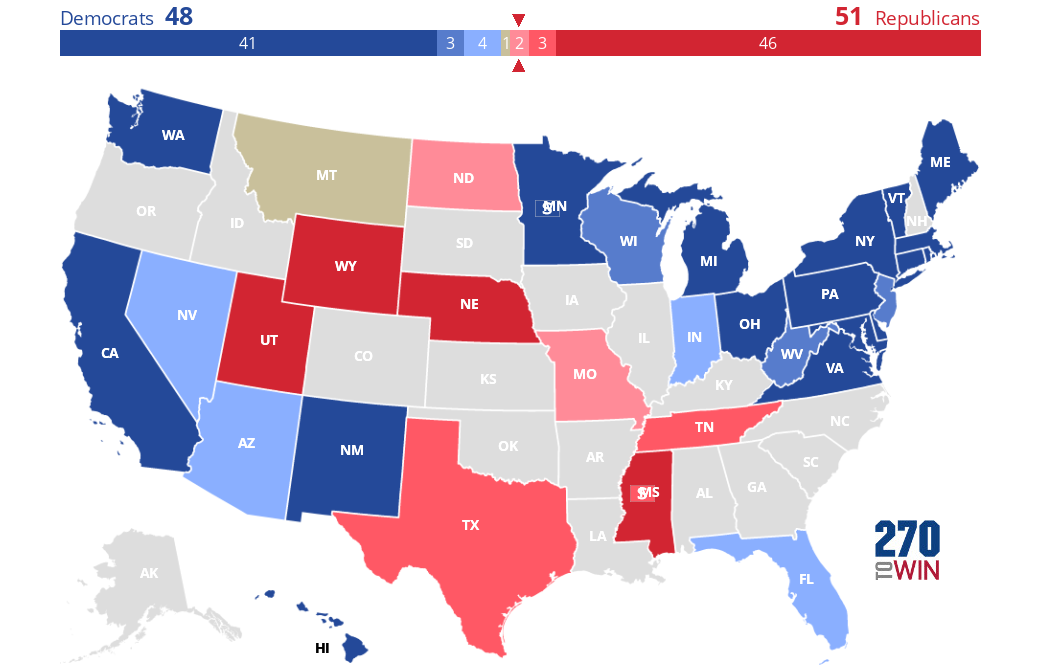 Click the map to create your own at
270toWin.com
Safe GOP (4 seats, no flips)
Utah
Wyoming
Nebraska
Mississippi (Wicker)
https://www.youtube.com/watch?v=LjVedo_aHiA
No movement here, unsurprisingly, some Dems are murmuring that Nebraska Senator Deb Fischer is underperforming against Democrat Jane Raybould but regardless it's not going to be enough to actually put Nebraska in play at this late stage with Dems still struggling even in Omaha.
Likely GOP (3 seats, no flips)
Mississippi (Hyde-Smith)
Texas (->from Lean GOP)
Tennessee (->from toss-up)
Democrat Mike Espy remains highly likely to make the December runoff against either the sitting Republican Senator Cindy Hyde-Smith or tea party retread Chris McDaniel. Espy will be a serious underdog against Hyde-Smith in December (with lower Dem turnout almost certain), but against McDaniel this race could get interesting. The key test for Hyde-Smith is defending her right flank, not her left, she needs to hope President Trump makes a late push on her behalf.
Phil Bredesen's campaign in Tennessee is reverting to party loyalties, even against Tea Party Congresswoman Marsha Blackburn. Bredesen's personal popularity has been dented heavily by a wave of GOP attacks, including over potential issues with sexual harassment in his office when he was Governor. Without that shining popularity Bredesen has struggled to create a winning message in a very red state. His public support for Kavanaugh's Supreme Court nomination only seemed to reduce Democratic enthusiasm for his campaign, and ties to national Democrats including gun control advocate Mike Bloomberg aren't doing him any favors. With the Tennessee GOP possessing far better infrastructure in the state compared to their Dem counterparts, high turnout in places like Memphis is not going to save Bredesen, as this race has quickly gotten away from Dems and could become likely GOP soon.
Texas is again looking like false hope for Democrats, Ted Cruz has a pesky edge in the polls and Beto O'Rourke's refusal to go negative against Cruz is preventing him from taking a narrow path to victory in the still conservative state. O'Rourke is a Dem celebrity candidate, but his campaign is stalling as the calvary finally came in to boost an incompetent Cruz above 50%. Democrats don't have much hope of boosting Hispanic turnout enough in the state to matter, and a good number of more conservative Hispanics are going to vote for Cruz.
Lean GOP (2 seats, 2 flips)
North Dakota* (-> from toss-up)
Missouri* (->from toss-up)
If the GOP flips the red states of Missouri and North Dakota while holding Texas and Tennessee, their hold on the Senate for the next 2 years is basically assured. Congressman Kevin Cramer is a gaffe machine in North Dakota, but Democrat Heidi Heitkamp's vote against Kavanaugh isn't likely to do her any favors in the state. Only a massive Dem turnout wave is likely to push the moderate Heitkamp over the line, because Cramer is probably up 3%-7% even after putting his foot in his mouth multiple times. Cramer may be best served watching tv at home until election day and staying away from reporters.
Republican Josh Hawley has also developed a slight edge against Democratic Senator Claire McCaskill, enthusiasm is not high for McCaskill in St. Louis and among black Missouri voters presently. This red state appears to be shifting towards party loyalties as well as McCaskill may finally be out of her nine lives.
Toss-Up (1 seat)
Montana
While Democrat Jon Tester probably retains a slight edge to hold his seat, Republicans are making a late push to boost State Auditor Matt Rosendale as they look to expand the Senate playing field. Rosendale hasn't been an incredible candidate, but this is a Red State and GOP voters coming home has to make Tester sweat at this point.
Safe Dem (18 seats, no flips)
Hawaii
Washington
California
New Mexico (<- from Lean Dem)
Minnesota (Smith) (<- from Lean Dem)
Minnesota (Klobuchar)
Michigan (<- from Lean Dem)
Ohio (<- from Lean Dem)
Pennsylvania
Maryland
Delaware
Virginia
New York
Connecticut
Rhode Island
Massachusetts
Vermont
Maine
Michigan, New Mexico, and the Minnesota Special Election are basically off the board for the GOP at this point. Democrats are set to perform well statewide in all three states, boosting Senators Debbie Stabenow, Martin Heinrich, and Tina Smith to relatively comfortable victories. In New Mexico, the Libertarian campaign of former Governor Gary Johnson hasn't taken off.
Democratic dominance in the Midwest extends to Ohio and Pennsylvania, states Trump won that the GOP Senate candidates have practically no chance to flip. Ohio Senator Sherrod Brown may take a look at running for President after cruising to re-election in a critical Presidential election state.
Likely Dem (3 seats, no flips)
Wisconsin (<- from Lean Dem)
West Virginia (<-from Lean Dem)
New Jersey
Republicans Patrick Morrisey and Leah Vukmir are running out of steam in what looked to be competitive Senate contests earlier in the year. Democrat Joe Manchin's vote for Kavanaugh has deprived Morrisey of a key selling point for his candidacy and he's devolved into making desperate attacks on Manchin that voters just aren't buying. In line with the pattern of Dem dominance in the Midwest, Tammy Baldwin can pretty plan to spend the next 6 years as US Senator.
In New Jersey Republican Bob Hugin continues to put corrupt Democratic Senator Bob Menendez under a surprising amount of pressure, but this just isn't the cycle for him to pull an upset. In any other year than this one Menendez would have lost or been forced to drop out by the party.
Lean Dem (4 seats, 2 flips)
Nevada* (<- from toss-up)
Arizona* (<- from toss-up)
Indiana
Florida (<- from toss-up)
The Sunbelt and Midwest remain fertile ground for Democrats, veteran Senators Joe Donnelly and Bill Nelson have improved their standing in recent weeks, and voting against Kavanaugh probably hasn't hurt them. Mike Braun probably has better odds than Rick Scott at this point for Republicans just based on the party loyalties of their respective states. Scott's campaign has been hampered by low approvals for Trump in Florida and Nelson has been dragged into a lead by Gubernatorial nominee Andrew Gillum, a candidate that has helped his standing with non-white voters and younger voters. An endorsement from the Governor of Puerto Rico has also helped Nelson even though he hasn't run a good campaign. The only hope for Scott at this point is that his leadership during the current Hurricane will give him enough spotlight to win over the remaining undecided voters.
Even though Dean Heller has led some recent polls in Nevada, polling in Nevada tends to underestimate Democrats and the undecided voters in most of the polls will favor Democrat Jacky Rosen at the ballot box. Heller is looking to be to be a little too conservative to hold onto a state that Clinton and Obama both won.
Arizona is also a disappointment for the GOP, Martha McSally hasn't caught on, and even with a checkered past, Democrat Krysten Sinema is selling a moderate image that voters are clearly buying right now. None of these four seats are totally off the table for the GOP, but if Dems don't sweep all 4 they have no chance to take the Senate.
In closing the Senate looks set to remain the same it is now, 51-49 in favor of Republicans. Democrats need win all their current toss-up/lean seats, and all of the current Lean GOP seats to spring a surprise and retake the Senate, at this point that would be a huge upset.
Main Photo: