A favorable map this year means that even if Republicans struggle nationally they have better than 50% odds of holding onto the US Senate, as it stands Democrats would be favored in just 45 of the 51 seats they need to take control of the Senate, and they don't have any immediately favorable pickup opportunities, however a favorable national climate and credible recruits could be enough for them to notch an upset in November. After reviewing my Senate ratings, you can check out my race ratings for Governor here and my ratings for House Here. The map below highlights the current battlegrounds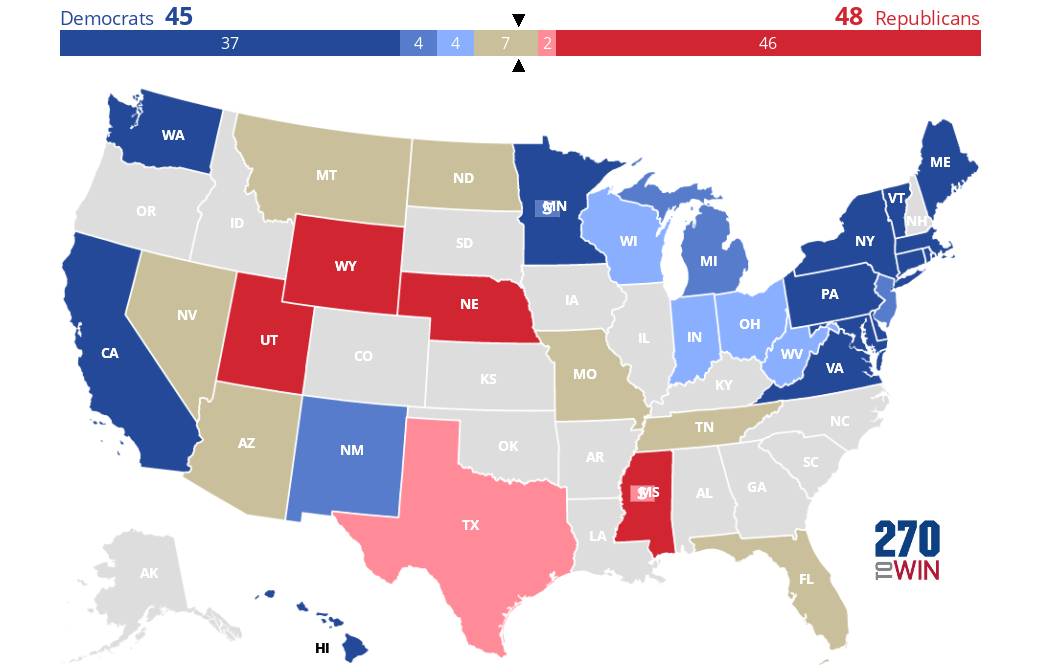 Click the map to create your own at
270toWin.com
Safe Democratic Seats (14)
Maine
Vermont
Massachusetts
Rhode Island
Connecticut
New York
Pennsylvania
Maryland
Delaware
Virginia
Minnesota (Klobuchar)
California
Washington
Hawaii
The Atlantic and Pacific coastal states will remain safely in Democratic hands this year, along with Minnesota. Popular senators Angus King (Maine), Bernie Sanders (Vermont), Elizabeth Warren (Massachusetts), Sheldon Whitehouse (Rhode Island), Chris Murphy (Connecticut), Kristen Gilibrand (New York), Tom Carper (Delaware), and Ben Cardin (Maryland) do not have to worry about re-election this year with the best Republican candidate for these seats, Maine State Senator Eric Brakey, best known for dancing rather than lawmaking.
Out West Democratic Senators Mazie Hirono (Hawaii), Maria Cantwell (Washington), and Diane Feinstein (California) are safe bets for re-election. Feinstein faces a challenge from her own party, progressive State Senator Kevin de Leon, although De Leon inspires the party base, California's moderates and conservatives will surely back Feinstein in the November general, ensuring any loss of votes among progressives is made up for in the end.
Three purple state Senators are also breathing easy this year as Amy Klobuchar (Minnesota), Tim Kaine (Virginia), and Bob Casey (Pennsylvania) are cruising to re-election. Republicans didn't seriously go after Klobuchar, Kaine is facing an avowed neo-confederate in Corey Stewart, and Republican Congressman Lou Barletta has failed at just about everything he's tried against Casey in PA, his fundraising his poor and his poll numbers are abysmal, allowing the moderate Casey to try to beat the line he put up in 2006, beating Rick Santorum by 17%.
Likely Democratic Seats (4)
New Jersey
Michigan
Minnesota (Smith)
New Mexico
Similarly to the above list, it would take a shocker for any of these incumbent Democrats to lose. New Jersey Democratic Senator Bob Menendez probably belongs in prison but despite Republican business executive Bob Hugin's heavy spending putting him within striking distance in some polls, the Democratic lean (and Democratic machine) in the state makes it very hard for Hugin to put together a winning coalition in a tough national climate for the GOP. Hugin has run a good race but he'll likely come up short in the end.
Michigan Democratic Senator Debbie Stabenow is facing on paper, a credible Republican in business executive and veteran John James, but James looks to be the next candidate in a long line of black Republicans to falter at the highest level, as Stabenow is a popular incumbent and Michigan as a whole has swung back towards Democrats. In a different year the Stabenow vs James race would have been a toss-up.
In Minnesota Democratic Senator Tina Smith is still introducing herself to voters after replacing Al Franken via appointment, Smith has a credible Republican opponent, State Senator Karin Housley, but this is another state that has moved away from the GOP in the past 12 months, and Smith should pick up steam in the final 2 months to safely secure re-election.
New Mexico has one of the most interesting Senate races in the country, but Democratic Senator Martin Heinrich still has to be favored in a true three-way contest. Former New Mexico Governor Gary Johnson remains popular, and he's on the ballot as the Libertarian nominee, making a case that he would be the deciding Senate vote if elected. The Republican nominee is businessman Mick Rich, a relatively forgettable candidate. Johnson could end up finishing a strong second, but New Mexico is a Democratic state in most years and Heinrich hasn't done anything to make him vulnerable against Johnson or Rich.
Lean Democratic Seats (4)
Ohio
West Virginia
Indiana
Wisconsin
Democrats appear to have lucked out in the rust belt though they aren't entirely out of the woods in these 4 seats. If Republicans can knock off any of these Democratic incumbents Senate control would be all but assured.
West Virginia is a conservative state, but they have a conservative Democrat, perhaps the only one in the Senate, in Joe Manchin. Attorney General Patrick Morrisey is a weak nominee and a bit of an outsider in a state with a very low rate of population inflows. Morrisey's ties to opioid drug companies, in a state hit hardest by the opioid crisis, have been exploited effectively by Manchin, and the Senator's willingness to entertain parts of the Trump agenda appear to be enough to satisfy a majority of West Virginia voters at this time. If Manchin stays on track he could win by 5 points or more.
Wisconsin and Ohio got credible Republican nominees with State Senator Leah Vukmir going up against incumbent Democrat Tammy Baldwin in Wisconsin, and Democratic incumbent Sherrod Brown facing Congressman Jim Renacci in Ohio. Brown is personally popular though and consistently beats the line in statewide elections, meaning that even a toss-up party lean in Ohio would result in a Brown victory. Wisconsin is slipping away from the GOP this cycle, and Vukmir is not an entirely known quantity. Vukmir has a narrow path and it's probably more likely she wins than Renacci but at this time both seats should stay in Democratic hands.
Indiana is an interesting one, on paper it should be a toss-up as it's a conservative and Trump voting state, but similar to Manchin, Senator Joe Donnelly appears to be convincing just enough Republican voters that he'll continue to represent their interests well enough that they are willing to vote to re-elect him, rather than supporting Republican businessman Mike Braun. Braun has struggled to build up his profile after winning a close primary and Donnelly has maintained a lead. I expect this race to get closer but it has to be rated lean Dem right now as Braun isn't able to show he has any kind of a lead or even a tie against Donnelly with voters.
Safe Republican Seats (4)
Mississippi (Wicker)
Nebraska
Wyoming
Utah
Two-time Presidential candidate and former Massachusetts Governor Mitt Romney will be joining the US Senate as the junior Senator from Utah, he'll join fellow western Republicans John Barrasso, and Deb Fischer who look set to easily win re-election. Nebraska should be more competitive but Lincoln City Councilwoman Jane Raybould, the Democratic nominee in the state, hasn't been given anywhere near the support she would need to hold Fischer accountable.
Attorney David Baria is an interesting candidate in Mississippi for Democrats, but senior Senator Roger Wicker is a popular Republican in a red state, making it unlikely he'll be sweating on election night.
Lean Republican Seats (2)
Texas
Mississippi (Hyde-Smith)
These two seats are reaches for Democrats but given a tough map, they are probably worth making the effort. "Beto Mentum" is a real thing, and the massive fundraising and honest campaign effort of Democratic Congressman Beto O'Rourke has been enough to make Republican Ted Cruz and his conservative allies have to react in Texas, a state that is still very red at the statewide level. O'Rourke will probably come up short like the Democrats before him (Wendy Davis, Bill White), but he is drawing resources away from the GOP that would otherwise be put into more competitive states. The problem in Texas for Democrats is abysmally low voter turnout among their key populations (youth and people of color), and that's probably not going to be fixed in a single election cycle no matter how many polls show O'Rourke in striking distance. The competitive polling is frankly a reflection of Cruz not being a very good Republican candidate, something his Tea Party allies have long refused to admit. Cruz is patronizing and too conservative, even for Texas.
In Mississippi Senator Cindy Hyde-Smith took her position via appointment but has thus far gained the support of President Trump and the GOP establishment, which looks to have put an end to Tea Party Candidate Chris McDaniel's challenge from the far right. Former USDA secretary Mike Espy, a moderate (Bill) Clinton Democrat who had his political ambitions hampered by corruption charges remains a threat though. Espy is sure to secure the votes of almost all of the states significant black population, and his long time profile in state politics and moderate positions means he could snatch an upset victory if Hyde-Smith isn't fully on top of her re-election efforts. Depending on the outcome of the first round of voting in November, this race could head to a runoff that would decide Senate control, if that happens Hyde-Smith will be a clear favorite, but I can't count Espy out yet in an in-elastic state where he's guaranteed a vote floor north of 40%.
Toss-Up (7)
Florida
Tennessee
Missouri
North Dakota
Montana
Arizona
Nevada
These 7 states will determine Senate Control and given Vice President Mike Pence is Republican, the GOP needs just 2 of 7 to generate a majority, 3 of 7 or more will generate a working majority.
These toss-up states can be split into swing states, and red states that are considering voting for a Democrat this time. Florida, Arizona, and Nevada are in the first group. Senator Bill Nelson has thus far run a disastrous re-election campaign after cruising in 2012, but he very well could be saved by Andrew Gillum's race for Governor and a national climate that favors Democrats. Republican Governor Rick Scott has hammered Nelson on the airwaves and remains popular with ancestral Democrats and Hispanics, which, when joined with regular registered Republicans may be just enough to get Scott over the line. Nelson will need Gillum to drive turnout in order to survive, because his favorability and name recognition continue to suffer, while Scott clearly runs ahead of Trump in the state and should be a slight favorite right now.
Former Progressive Nader raider Krysten Sinema got elected to the US House in a swing seat a couple of cycles back as a blue dog/moderate and was convinced by Democrats to enter the Senate race. Thus far that decision has worked out, Arizona is a red state but it's changing and Sinema's rebranding has helped her hold a small but steady lead on Republican Congresswoman Martha McSally, who also has a military background. McSally should have slammed the door on Sinema by now but that doesn't seem to be happening, to the point where Sinema is now a slight favorite.
In Nevada Republican Senator Dean Heller is clearly overperforming against Democratic Congresswoman Jacky Rosen, Heller is another Republican who runs ahead of Trump and given he clearly has a small lead with "likely voters" Rosen will need to juice Democratic turnout in Las Vegas to get over the line. Given Nevada is a state Clinton won, I'll make Rosen a slight favorite right now.
if Democratic Senator Jon Tester gets re-elected in Montana it may be with less than 50% of the vote, Montana has shown a willingness to vote for Democrats and Republican State Auditor Matt Rosendale has been dishonest with his bio.
In Missouri Claire McCaskill may be on her 9th life in what remains a red state that is pro-Trump. Attorney General Josh Hawley has started to pull himself together after a slow start and is now tied or slightly ahead of McCaskill, this is another race where turnout will decide. If St. Louis and Kansas City don't show up enough for McCaskill, she's toast.
In Tennessee national pundits have been stunned by the performance of former Democratic Governor Phil Bredesen in the race, but Bredesen was, and remains one of the most popular politicians in the state, and Republican Congresswoman Marsha Blackburn built her career as a Tea Party conservative rather than being part of the Bob Corker/Lamar Alexander wing of the GOP that has run Tennessee for quite some time. Bredesen is going to pick up a lot of Republicans and unless he trips up he should be the favorite in his race based on candidate quality alone.
Last but certainly not least, the race in North Dakota has been under the radar but it's actually a clash of the heavyweights as both candidates are elected statewide. Democrat Heidi Heitkamp has tried to follow the Donnelly/Manchin model of appealing to moderates and some Trump supporters while retaining the Democratic base, but Republican Congressman Kevin Cramer knows the state well and this looks like the toss-up seat most likely to flip from blue to red this year, even if it's by a small margin. Heitkamp is probably going to run out of voters she can appeal to.
Presuming all the toss-ups break out as I currently have them leaning, Republicans would continue to control the Senate with 51 votes compared to the Democrats 49 votes with wins in Missouri and North Dakota proving to be the crucial pickups.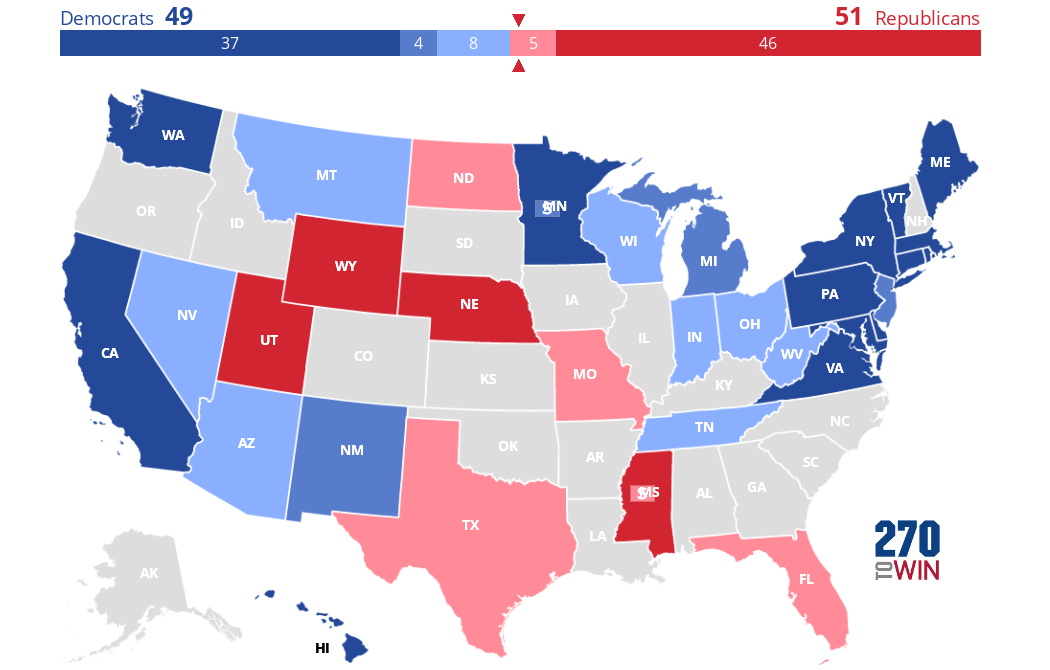 Click the map to create your own at
270toWin.com
Main Photo: