With all but three primaries concluded across the country, ahead of the 2018 midterm elections the candidates and their respective standings have started to solidify. With two months until the November midterms, Democrats appear poised to "flip control" of the states; however, there are still more than a half-dozen states in play that will ultimately decide the final result.
House and Senate rankings will follow as Democrats also look to take control of both houses of Congress after a disastrous 2016 election. Below is the current map prediction.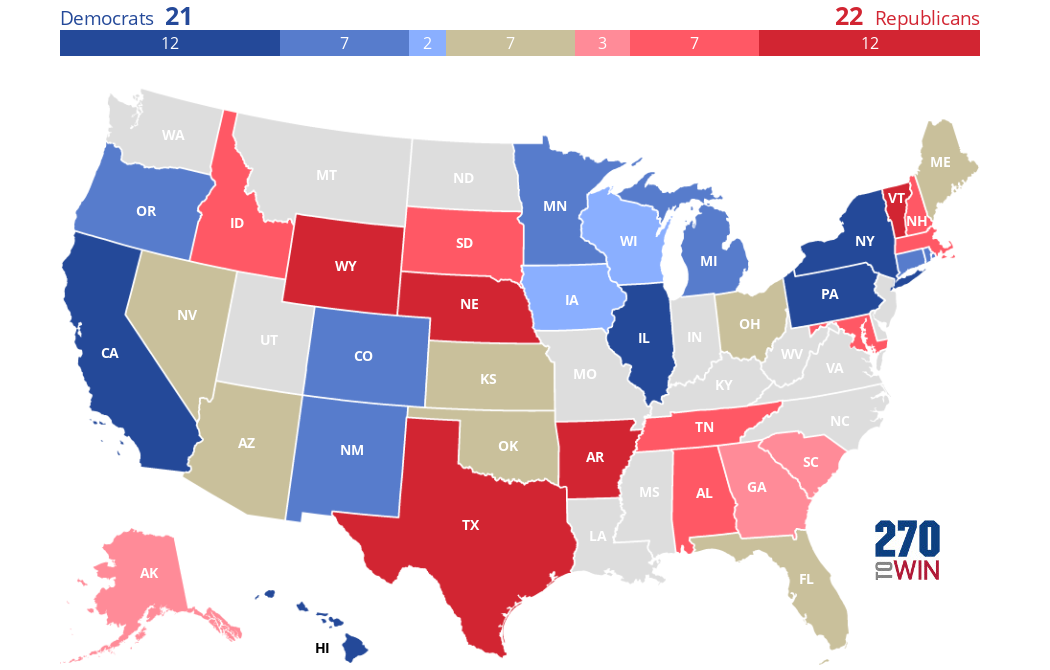 Click the map to create your own at
270toWin.com
Ratings (bold denotes pickup)
Safe Republican Seats (5)
Vermont
Wyoming
Nebraska
Arkansas
Texas
Vermont is a reliably blue state at the federal level, but the Democratic nominee Christine Hallquist is underfunded and Republican incumbent Phil Scott may well have more Democratic and independent supporters than Republican supporters. Scott received 68% in his GOP primary and that will be an over/under line for the general.
Wyoming, Nebraska, and Arkansas are GOP led red states that Democrats don't have enough momentum in to flip. Wyoming will have a new Governor (most likely Republican State Treasurer Mark Gordon), while Asa Hutchinson (AR) and Pete Ricketts (NE) look set to get re-elected against moderate but uninspiring challengers–a young Jared Henderson (AR) and Republican turned Democrat Bob Krist (NE), an Omaha State Senator.
In Texas, despite all the "Beto-Mentum" in the Senate race and multiple GOP house seats in danger in the state, Governor Greg Abbott appears set to thread the needle and cruise to re-election against former Dallas Sheriff Lupe Valdez. Valdez should run at least 5-8 points behind O'Rourke's final number, and even among Hispanics the first Latina nominee for Governor of Texas is only barely leading Abbott.
Likely Republican Seats (7)
New Hampshire
Massachusetts
Maryland
Tennessee
Alabama
South Dakota
Idaho
In addition to Vermont, Republicans look to continue their surprising control of much of the Northeast and New England, areas where they struggle at the federal level. The New Hampshire primary is not over yet but Chris Sununu looks to be clear of 50% against either Democratic challenger.
In Massachusetts, Republican Charlie Baker is in a similar position to Scott. He's very popular overall and may have less friends and allies among his own party than he does with the state as a whole. Extremist pastor Scott Lively held Baker to just 64% of the vote in Tuesday's primary, but there is a good chance Baker will beat that line in November despite the fact attorney Jay Gonzalez is a decent Democratic nominee.
In Maryland, Larry Hogan, despite his popularity, should be under more pressure, but progressive activist and ex-NAACP national president Ben Jealous has run an error ridden campaign since a surprise primary victory in June. Jealous has tried to create a winning model by combining the votes of people of color with increased youth and progressive turnout–the problem is his platform and demeanor has alienated independents and moderates that Hogan maintains strong ties, with and traditional Democratic and left wing organizations such as labor unions have not entirely gotten behind Jealous. Short handed, and with a short fuse, it would be another stunner if Jealous pulled his second upset in less than six months; the question is whether Hogan will truly be drawn into a contest down the stretch or his high approvals and rejection of Trump will keep him out of the firing line.
Four rural conservative states also look set to stay in GOP hands, Karl Dean, the former Nashville mayor, is a strong Democratic nominee but seemingly not strong enough to flip an open seat in Tennessee where businessman Bill Lee has been able to separate himself from any voter frustrations about state government and run as an "outsider."
Walt Maddox, the mayor of Tuscaloosa, Alabama, is a candidate in the same mold as Dean, however incumbent Republican Kay Ivey is no Roy Moore and Republicans appear to have secured their ship after Doug Jones Senate upset last year.
Rep. Kristi Noem got out of the endless frustration of the U.S. House and will probably have an easy election night against State Senator Billie Sutton in South Dakota. Noem is popular and not enough of an extremist for Sutton to pick off the centrist voters he would need to squeak over the line.
In Idaho Lieutenant Governor Brad Little is uninspiring but looks set to continue GOP control of the state. Democratic State Rep. Paulette Jordan is an incredible candidate who would be the talk of the town if she was running for a winnable seat in say Washington or Oregon, but as it stands it's not likely most Americans will know her name after November.
Lean Republican Seats (3)
South Carolina
Georgia
Alaska
Republicans in South Carolina need to start worrying about their Governor's race. Henry McMaster got the job after a relatively strong Republican, Nikki Haley, took the UN ambassador's post, and he's never faced a general election as the party's candidate for Governor. Democrats have a strong recruit with a positive profile in State Rep. and veteran James Smith and Smith's internals have him within 5 points already, despite the fact he has half the name recognition of McMaster. South Carolina isn't that conservative of a state, but it has stayed red because it's inelastic. Democrats have gotten 41%, 44%, and 45% in the last 3 federal elections, and 41% and 47% (with the same candidate) in the last two gubernatorial elections. Smith is a stronger candidate than Democrats had in any of those races (for South Carolina's voting profile specifically), and given the Dem floor is clearly 41% in the state, he could pull off an upset.
Georgia is a toss-up in November, but if Democrat Stacey Abrams, the former Democratic leader in the House and a national progressive star, can't clear 50% in the general election she will be in a runoff with current Secretary of State Brian Kemp, who has been elected statewide twice by comfortable margins. That runoff would favor the GOP, hence why the race is currently Lean R. Georgia is an inelastic state where Republicans control in the political infrastructure. Abrams is trying to build a new coalition, but Democratic poll numbers have held up before  with similarly well-funded and serious candidates only to slump on election day at the ballot box. Kemp ran to the right to win his primary and is currently testing whether he can move back to the center to avoid losing centrist voters and Republican women to Abrams in the fall. Unless Abrams has a lead north of 50% in credible polling, Kemp probably gets over the line in the end.
In Alaska, moderate Bill Walker, who was elected thanks to independents and Democrats supporting him in a coalition in 2014, is trying to keep his seat against both a Republican and a Democrat. The Democrat is a well-known national face, former Senator Mark Begich, while the Republican is former State Senator Mike Dunleavy. Unlike other moderates like Charlie Baker and Larry Hogan, Walker is not wildly popular (which is part of why Begich got into the race). He's trailed in every poll conducted and could finish third in the final results. Given Alaska is a right leaning state with a core GOP vote, Dunleavy looks set to win a close three-way contest, unless Begich can surge in the end and consolidate the centrist and Democratic vote by boxing out Walker.
Safe Democratic Seats (5)
New York
Pennsylvania
Illinois
California
Hawaii
Whether it's Governor Andrew Cuomo or progressive activist Cynthia Nixon, Democrats will retain control of New York (unless Nixon joins other third party candidates in a November challenge to Cuomo). Pennsylvania voted for Trump but has given no indication they want to give Democratic governor Tom Wolf the boot in favor of former State Sen. Scott Wagner (R). Hawaii Governor David Ige survived a tough primary challenge and is now practically guaranteed re-election in a "true blue" state against Republican House leader Andria Tupola.
California's Democratic Lieutenant Governor Gavin Newsom, who has long dreamed of controlling the state, can also start measuring the drapes in Sacramento after Republican businessman John Cox made it into the second slot in the state's top 2 primary over any of the Democrats running.
Illinois is a certain Democratic pickup as wealthy businessman J.B. Pritzker is going to return the state that gave America Barack Obama to full Democratic control. Bruce Rauner has money, but simply put he's seen as a failed governor and only moderate Republicans like him, the conservative right and the Democratic left having abandoned him sometime ago. In a different cycle Pritzker would not be a strong nominee.
Likely Democratic Seats (7)
Rhode Island
Connecticut
Michigan
Minnesota
Colorado
New Mexico
Oregon
In a more Republican leaning year nationally, the Governor's races in blue states Rhode Island, Connecticut, and Oregon would be clear pickup opportunities, but as it stands the GOP is going to strike out on all three, while also failing to pick up Colorado or Minnesota.
Rhode Island's Gina Raimondo has not been a good, or popular governor, which is largely why her 2014 opponent Allan Fung has a slim chance this time after losing by 5 points last go around. However Democrats will likely rally behind their nominee, which means their won't be enough votes for Fung.
Connecticut's Dan Malloy has been one of the least popular Governors in America for a while and only won by 3 points in 2014, but Democrats look set to retain the seat due to the national environment and the fact it's an open seat and not a referendum on Malloy. Former progressive Senate candidate Ned Lamont is back as the Dem nominee and he's facing Republican financial executive Bob Stefanowski in November. The Trump kiss of death should do Stefanowski in.
Michigan and Minnesota look be in Dem hands as the GOP got weak nominees and Democrats got strong ones. Tim Walz, an outgoing Congressman, is a popular moderate Dem in Minnesota (facing 2014 GOP nominee Jeff Johnson who is back again after winning a tough primary against former Governor Tim Pawlenty).
In Michigan former Senate Democratic leader Gretchen Whitmer would have to gaffe multiple times on the trail for Republican Attorney General Bill Schuette to beat her. Republicans have controlled Michigan lately but Schuette has failed to secure the endorsement of outgoing Republican Governor Rick Snyder and his campaign is flailing since the primary.
Out west, Progressive Democratic Congressman Jared Polis isn't likely to run away with his race against Republican Walker Stapleton, the current State Treasurer, but with the national climate being what it is, and Colorado increasingly seen as blue state, Polis should win comfortably enough.
In New Mexico another Clinton state looks to be returning home to Democrats with Republican Governor Susana Martinez term-limited administration sun setting this cycle. Republican Congressman Steve Pearce is too conservative and too anti-immigrant to get a majority against Democratic Congresswoman Michelle Lujan Grisham, in another cycle this would be a close race, but I don't see Pearce having enough votes on the table.
In Oregon, moderate Republican State Rep. Knute Buehler, who represents a Democratic district in the State House, has been nagging Democratic Governor Kate Brown for months, and the last 2 governor's races (2014 and 2016) have been D+6 and D+7 respectively. Buehler is a good candidate for the Oregon GOP but Brown isn't weak enough to come up short in what should be a strong Democratic climate in the state overall.
Lean Democratic Seats (2)
Wisconsin
Iowa
4 Midwestern races are looking positive for Democrats, a critical region they struggled in in 2014 and 2016, and potentially a 5th Midwestern Governor's race is on the board (see below).
In Wisconsin Republican Governor Scott Walker has survived three statewide elections with 52%-53% of the vote each time, but he's looking far more vulnerable this time against popular Democratic Education Superintendent Tony Evers. Evers for context has his own great history statewide, in the same time span as Walker has been elected statewide the veteran politician Evers got 61% and 70% of the vote respectively for his education position. That popularity helped him cruise in the Democratic primary and seems to be correlating to the general election as well with Evers consistently leading polling by a noticeably high margin. Walker could come back of course, but the state climate in Wisconsin, which was once a blue state, seems to be favoring Democrats once again, and Walker's presidential ambitions very well may have damaged him just enough in the eyes of Wisconsin voters that Evers will get over the line, perhaps by more than 3 points. Evers is the opposite of a "rising star" but he may be just what Dems need to flip Wisconsin.
In Iowa, I'm going to go against the grain and call wealthy businessman Fred Hubbell the favorite against Republican Governor Kim Reynolds. Reynolds is Governor because Terry Branstad, a popular Republican, left office to become US Ambassador to China, and has thus never faced the state's voters as the Republican nominee for the position. Hubbell has the money he needs to win and Reynolds approval rating has been dropping, she's also not the sharpest tool in the shed when it comes to campaigning. I could be wrong on this one, but I see Hubbell, a moderate, as a likely winner right now as Reynolds is nothing like Branstad.
Toss-ups (7)
Maine (tilt D)
Ohio (tilt D)
Florida (pure toss-up)
Kansas (pure toss-up)
Oklahoma (pure toss-up)
Arizona (tilt R)
Nevada (pure toss-up)
Based on these ratings Democrats sit at 21 Governorships and Republicans are at 22, with these 7 toss-ups set to decide national control of the states.
Maine is one of the hardest states to handicap as they will engage in ranked choice voting to decide the Governor this fall. Independents and third party candidates are normally a factor in the state's elections but with ranked choice now in effect it will surely be Republican Businessman Shawn Moody, formerly an independent, trying to hold the open seat for Republicans against Democratic Attorney General Janet Mills. Far right Republican Governor Paul LePage surely would have been toast if he had to face re-election, but Moody has complicated things. If i had to pick a winner today with the polls tied I would go with Mills simply due to the national climate and the fact Maine is a blue state.
In Ohio Dems are hoping for a resurgence after a decade of Republican victories. Former Obama administration official and Statewide elected official Richard Cordray is a strong Democratic nominee against current Ohio Attorney General and former Senator Mike DeWine in a true clash of the titans. Cordray has had a small but steady polling lead, and Senator Sherrod Brown looks safe for re-election on the same ballot, so again this race likely tilts to Dems at this moment given that DeWine doesn't have the same centrist profile as outgoing Governor John Kasich (R). If Dems get the turnout among black voters and suburbanites they need they will recover any votes they have lost from their formerly white blue collar base.
The only Tilt R race among the toss-ups is Arizona, where quiet Republican Governor Doug Ducey is seeking re-election against former State Education superintendent David Garcia.  Garcia is looking to build a modern coalition of voters of color (black,] and hispanic/latino), young voters, and suburbanites to overcome the normally Republican lean of this retiree-heavy state. Ducey hasn't been a terrible Governor but Arizona is on the cusp of flipping and with Democrats mounting their best challenge in the state of the modern era Garcia could very well build a lead once he builds his profile.
The other western toss-up is Nevada, which has been a swing state at the federal level for multiple cycles now. Attorney General Adam Laxalt is carrying the Republican mantle as they seek to hold this seat against Democrat Steve Sisolak, a county commissioner in the Democratic base of Las Vegas. Nevada is relatively in-elastic in terms of voter preference demographically, thus this race will come down to turnout. Current polling shows the race is basically a tie, but if Democrats give a turnout surge Sisolak would clearly have an edge, even with outgoing Republican Governor Brian Sandoval a popular figure in the state.
Kansas and Oklahoma were not supposed to be pure toss-ups at this point in the cycle, but simply put, Republicans have botched things badly in both states and voters are reacting. In Kansas current Governor Jeff Colyer lost his primary to Trump acolyte Kris Kobach, the current Secretary of State, while Democrats nominated State Senator Laura Kelly, who was backed by the last Democratic Governor of Kansas, Kathleen Sebelius. Kobach is an extremist who is testing how far the tea party/Trump coalition can carry a Republican in a normally red state like Kansas, while Kelly is hoping to woo moderates and Republicans who see Kobach as reckless and a Sam Brownback clone. Wealthy indepedent Greg Orman is also a factor; he can't win, but he's on the ballot and whether or not he breaks double digits in the final results could impact whether Kelly can get enough votes to get over the line. If I had to handicap the race right now I'd pick Kelly as the winner thanks to margins in the higher populated and better educated parts of the state like the Kansas City metro, but unless Orman's numbers slump Kobach still has a 50/50 shot at winning.
In Oklahoma Democrats got a great recruit in former Attorney General Drew Edmondson, a blue dog Democrat who won over 60% of the vote in 2002 and 2006 when he was on the statewide ballot in the general election. Oklahoma was once a Democratic state, albeit a conservative one, and the horribly unpopular outgoing Republican Governor Mary Fallin has done her best to push the state to go back in that direction. Republicans in Oklahoma have been besieged by angry teachers, and although businessman Kevin Stitt is an outsider he's still being damaged by the overall unpopularity of the state GOP. Edmondson has a slight polling lead and even with Dem infrastructure lacking in Oklahoma he should be the slightest of favorites right now.
Florida will likely be the most watched Governor's race in America; a state that always takes center stage in the race for President, they now have a heavyweight contest for Governor with Republican Congressman Ron DeSantis, backed by Trump and now the more moderate Marco Rubio wing of the GOP, taking on Tallahassee Mayor Andrew Gillum, a vocal progressive and the first black statewide nominee for Governor. Both candidates started as underdogs in their primaries but surged thanks to grassroots base support, and now they have to introduce themselves to a more centrist November electorate that has voted for both outgoing Governor and current Senate Candidate Rick Scott, and Barack Obama in recent years.
The conservative DeSantis is not the strongest of candidates statewide, while corruption issues have dogged Gillum. Given both candidates had a low profile until their recent victory, they are now being vetted by a much brighter spotlight; the candidate that survives the poking and prodding will likely win. DeSantis would have an edge in a neutral environment due to turnout, but if Gillum can boost youth and minority turnout in the urban parts of the state he'll reassemble the coalition that won Barack Obama the Sunshine State twice. Without absentee and early voting trends yet, this race stays a pure toss-up.
Below is the map with all toss-ups predicted out as of today. Democrats would have overall control 26-24.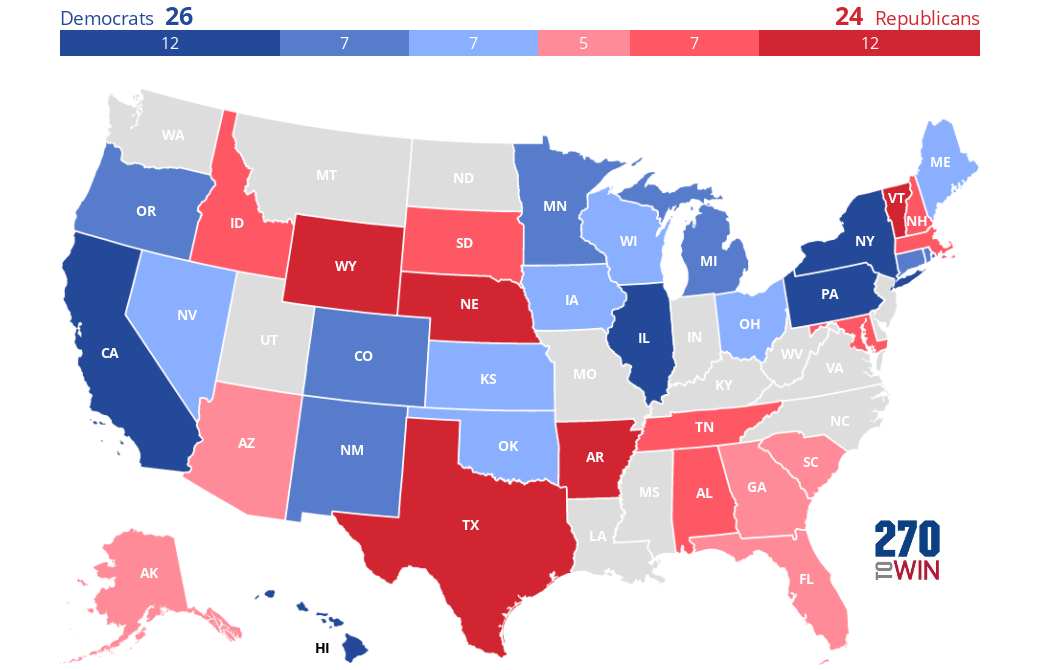 Click the map to create your own at
270toWin.com
Main Photo: